WASTE MANAGEMENT
Protection & Infrastructure

HOUSES MADE OF RECYCLED PLASTIC WASTE
Reuse plastic waste sustainably to improve living conditions and create jobs in developing countries.

Contamination from plastic waste is omnipresent. BOXS Light uses recycled plastic panels for its building envelope. Thus, the system not only provides adequate and safe shelter for people in need, but also contributes to the improvement of the environment by combating plastic pollution and promoting recycling.

The recycled plastic panels can also be used for various other infrastructure needs. Some examples: Floors in tents, furniture, raised beds for gardening, fences and much more. They are very easy to work with, weatherproof, water-resistant, easy to clean and more durable than wood solutions. And of course they can be recycled after use.
The production and construction of BOXS Light solutions creates new jobs in the local economy and ultimately contributes to a higher standard of living for the population.
BOXS LIGHT IN JORDAN: PROJECT TADWEER
Local development, environmental protection and humanitarian aid

We are developing a mobile production facility for the local production of recycled plastic Boards from local plastic waste to provide new production materials to improve the local infrastructure.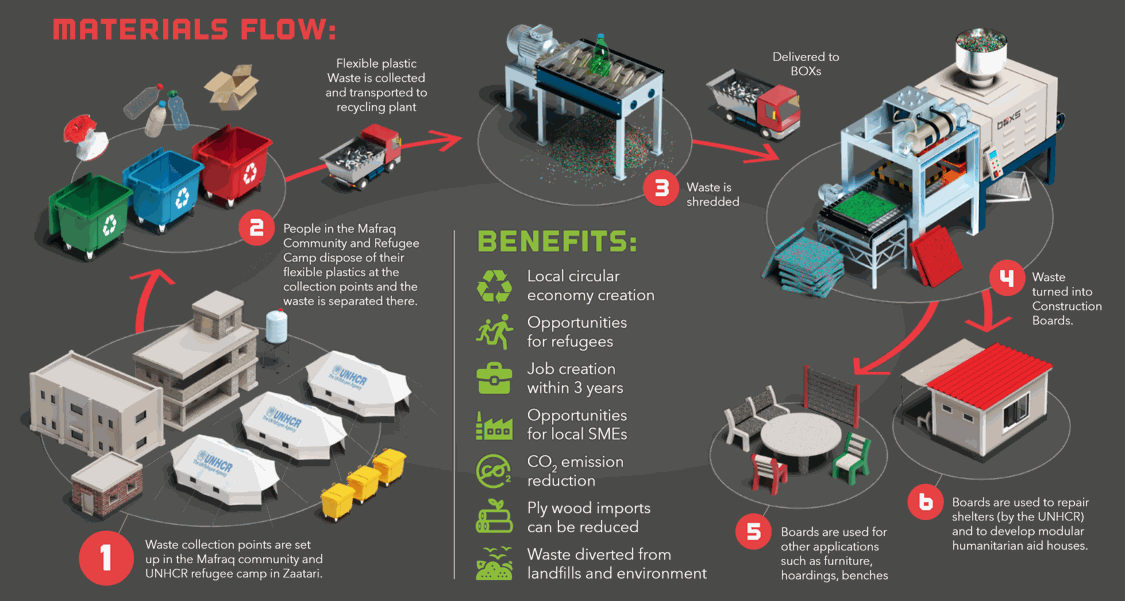 Our goal is to promote the recycling industry by providing a valuable end-user application from recycled plastic waste and to strengthen the local economy by developing new employment opportunities.